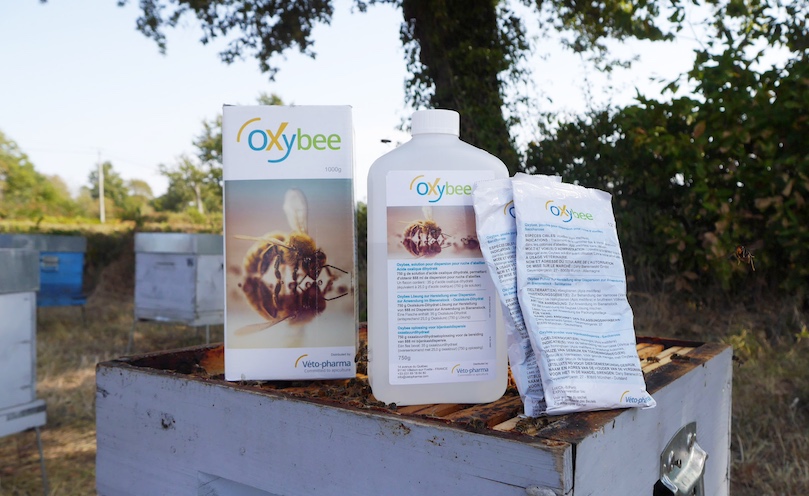 Oxalic acid trickling made easy
---
Oxybee is an innovative veterinary medicine against varroa mites based on oxalic acid dihydrate, glycerol, sucrose, and essential oils (anise and eucalyptus).1
It is the first oxalic acid formulation containing glycerol authorised in the European Union.
Oxybee is applied by trickling in brood-free colonies and is suitable for organic beekeeping.2 The formulation is simple and economical to use: Oxybee can be stored for up to 1 year after opening in the refrigerator (2°C to 8°C).3 One box of 1kg allows the treatment of about 30 hives (1kg = 888 ml of liquid solution).
An innovative formulation
---
The combination of sucrose and glycerol in the oxalic acid solution is a key advantage of Oxybee.1
The formulation of oxalic acid in combination with sucrose and glycerol increased the mortality of varroa mites in laboratory tests. This effect is assumed to be based on the increased hygroscopy (ability to retain water) of glycerol. Small droplets of oxalic acid solution form in the hive and remain available for longer, enabling a better distribution of the active.1-4
As a result, field data have shown a higher efficacy of Oxybee compared to a standard formulation of oxalic acid and sucrose.5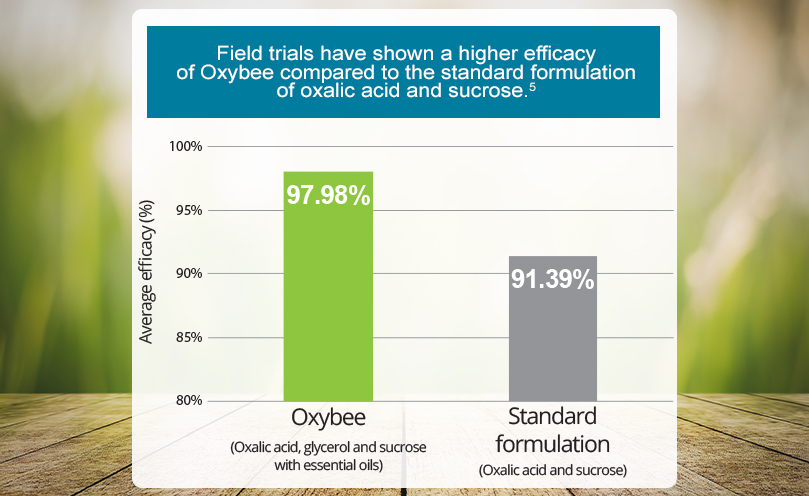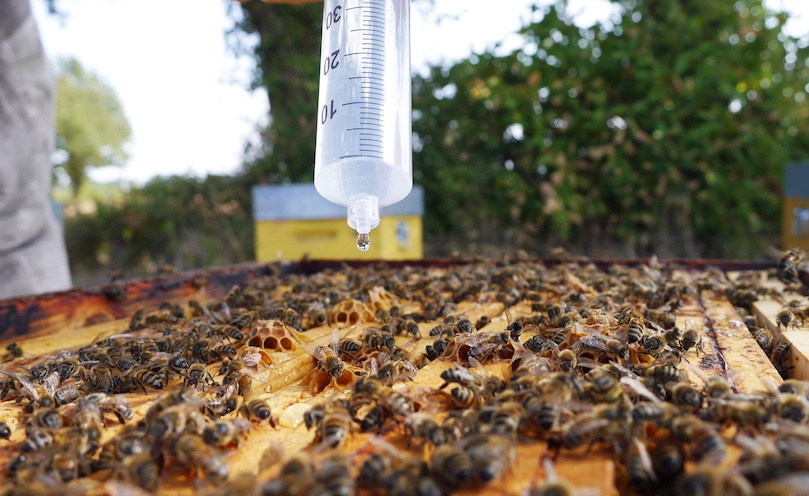 Oxybee is easy to use
---
To prepare 888ml of solution (box of 1kg), beekeepers only need to mix the two sachets [of sucrose + essential oils] in the bottle [containing oxalic acid + water] and shake it well.6
The oxalic acid is already dosed. No risk of wrong mixing ratio.3
As the oxalic acid is already mixed in the liquid solution. There is no need to wear a respirator mask (no exposure to the oxalic acid powder).7
Efficacy and colony strength
---
A study conducted in 2021 in Spain compared 3 varroa treatments based on oxalic acid: Oxybee, Api-bioxal and VarroMed.8
Both Oxybee and Api-bioxal demonstrated the best efficacy, but Oxybee showed better results in terms of survival and number of frames (bees and brood).
The applications of Api-bioxal and VarroMed caused significant effects in terms of bee and brood losses.
The 3 applications of VarroMed in the presence of brood, according to the instructions for use, did not provide sufficient control of the infestation in this study.
Therefore, efficacy alone is not sufficient to assess the treatment outcome in honey bee colonies. It is also essential to consider overwintering success to evaluate the outcome of varroa treatments and management strategy.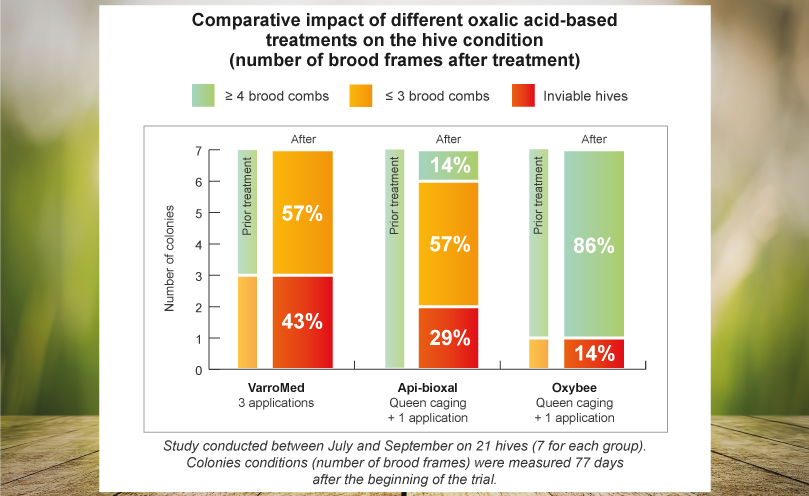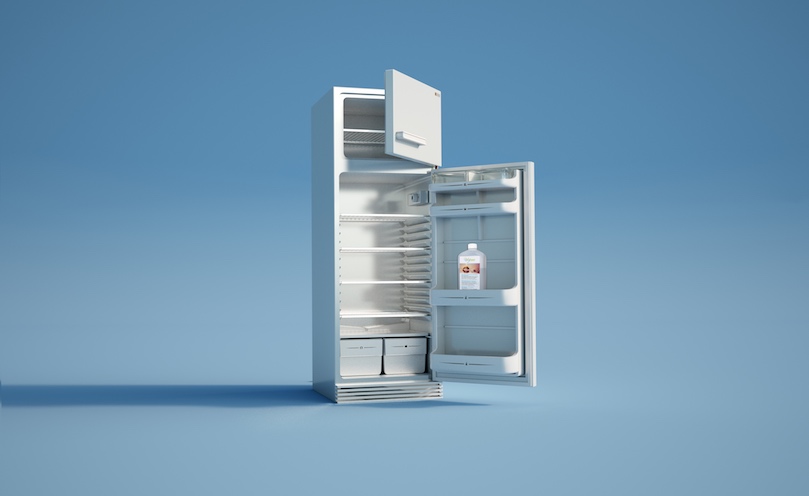 More advantageous storage conditions
---
Thanks to its specific composition, Oxybee offers more advantageous storage conditions compared to the other registered products:9
The shelf-life of Oxybee in its original box is two years from the manufacturing date.
Once you have mixed the two powder sachets [sucrose + essential oils] with the oxalic acid dihydrate solution in the Oxybee bottle, you can again store the mix for an entire year inside your fridge at a temperature between 2°C and 8°C.3
Want to purchase Oxybee?
Check out the list of authorised distributors in your country.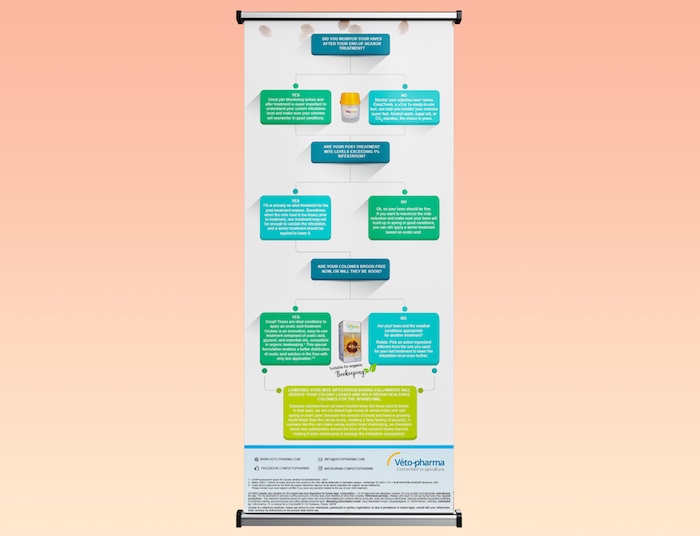 Fun infographic aiming to identify the end-of-season varroa control needs in the bee colonies.
09 May 2022
We tried it: Takeaways from a field efficacy trial in Spain. If you are wondering whether you could treat your colonies with oxalic acid during the season, how it works, and which product to use, take a look at the …
---
References
1- CVMP assessment report for Oxybee (EMEA/V/C/004296/0000) – 2017
2- Oxalic acid is approved by the EMA (European Medicines Agency) as an active ingredient for organic varroa treatments. Please contact your local organic certifier if you have any question related to the use of your mite treatment.
3- If mixing has been carried out according to instructions (c.f 6.3 of the Oxybee SPC)
4- Milani (2001) – Activity of oxalic acid and citric acids on the mite Varroa destructor in laboratory assays – Apidologie 32 (2001) 127–138 © INRA/DIB-AGIB/EDP Sciences, 2001
5- Poster G. Braun et al., DVG-Fachgruppentagung "Parasitologie und parasitäre Krankheiten", Hannover, Germany, Juni 12-14, 2017.
6- Read the instructions before use.
7- Personal protective equipment consisting of protective clothing (long sleeves, pants and shoes), acid-proof gloves and safety glasses should be worn.
8- Fernando Calatayud Tortosa, Enrique Simo Zaragoza – Efficacy of Oxybee® after queen caging in the South of Spain – 2021
9 – Other registered products without glycerol.
Legal notices
To read the Oxybee SPC, click here:
http://www.ema.europa.eu/docs/en_GB/document_library/EPAR__Product_Information/veterinary/004296/WC500245638.pdf
OXYBEE powder and solution for 39,4 mg/ml bee-hive dispersion for honey bees. Composition: 1 ml of mixed bee-hive dispersion contains 39,4 mg of oxalic acid dehydrate. Indication(s) for use: For the treatment of varroosis (Varroa destructor) of honey bees (Apis mellifera) in brood free colonies. Withdrawal period(s): Honey: zero days. Do not use during honey flow. Special precautions: This veterinary medicinal product is highly acidic and could have irritating and corrosive effects on the skin, eyes and mucous membranes. Personal protective equipment consisting of protective clothing, acid-proof gloves and safety glasses should be worn. Marketing authorisation holder: Dany Bienenwohl GmbH, Geyerspergerstr. 27, 80689 Munich, Germany. Distributed by: Véto-pharma, 12-14 avenue de la Croix Martre 91120 Palaiseau, France. V0119
OXY-50-EU-N02-01/22